"Dear God, thank you for this day, and thank you for____, and thank you for _______. Amen." 
That's what most kids (and even some adults!) say when praying to God out loud.
Well…it's time to get them out of that RUT!
But…HOW? 
How can we help kids pray without giving them some sort of "fill-in-the-blank" type of formula?
I believe the answer lies in our approach to teaching kids about prayer.
Perhaps memorized formulas are the fastest way to give kids something to say that sounds like a prayer, but are they really learning to pray?
The majority of the time, the answer is NO.
Kids these days are learning to repeat something that sounds "acceptable". Sadly, in many cases they may not even really be praying, according to God's definition.
So, let's teach our kids what prayer really is.
Many adults understand that prayer is simply talking to God. So, let's help kids understand that too. Let's help them get into the habit of talking to God in a natural way, so that it becomes second nature to them.
Here's how:
1. Start early
The earlier you start teaching kids about prayer, the easier it will be for them to understand what it's truly all about, and to get into the habit of doing it "correctly".
If you are the parent of young children, or you teach a class of two to three year olds, it's not too early to teach them about prayer.
Before you pray with kids, instead of saying, "Billy, say this:______" ask them leading questions instead. A good leading question would be "Billy, what do you want to tell God?" or, "What do you want to ask God?" That way the child can think about what he wants to say before he prays, and you can prompt him to simply express himself to God in a natural way.
2. Teach kids what prayer is
It's difficult for children to pray if they're not sure exactly what prayer is.
Help kids understand that prayer is our way of communicating with God. Just like we talk with our family and friends, we can talk to God.
God speaks to us through His Word, and we talk to Him through prayer.
The problem is that, to kids, prayer often sounds very different from "normal" speaking, because we might use "big", formal words and a more respectful tone.
Of course, it's important to be respectful when speaking to the God of the universe.
But… let's not overdo it!
We don't speak to our family and friends with pompous, pretentious language, so we shouldn't talk to God that way either.
God calls himself our friend in the Bible. He spoke to Moses "face to face". And God's desire is to have a deep, personal relationship with man, His finest creation.
3. Teach them how, not what
Like I mentioned earlier….
we need to teach kids how to pray, not what to say. 
There are a few handy methods for teaching someone how to pray, like the example Jesus gave his disciples in the Bible:
"This, then, is how you should pray: "Our Father in heaven

hallowed be your name, your kingdom come,

your will be done, on earth as it is in heaven.

Give us today our daily bread.

And forgive us our debts, as we also have forgiven our debtors.

And lead us not into temptation, but deliver us from the evil one." (Matthew 6:9-13 NIV)
Note that Jesus said "this is HOW you should pray", not "this is WHAT you should pray". 
Also note that he started by praising God. I'm not saying that we have to begin every prayer by praising God, but it's certainly a great way to show Him respect when beginning a conversation.
Other aspects of Jesus' prayer are: 
Submitting to God's will– telling Him that you recognize that His will is more important than your own. "Thy will be done."
Asking for needs. "Give us today our daily bread".
Asking for forgiveness. "Forgive us our debts."
Asking for help to do right. "As we also have forgiven our debtors."
Asking for protection from temptation, sin, and Satan. "And lead us not into temptation…"
Teach kids that these things are all great examples of things we can and should say to God. Also point out that Jesus used the word "US". That shows that he was included others in His prayer. That's what we should do too!
4. Use popular "methods" sparingly
There are many "five-finger prayer" methods out there, but by no means should you hold kids to them, or make them think that their sincere prayers are "less than worthy" if they don't follow the "method".
Only teach these methods as a means of explaining what kinds of things we can pray about.
They should be serve as helpful tools, not strict guidelines. 
Here's a second "method", that can help kids remember people to pray for:
5. Help them understand that prayer is not a ritual
The best way to get kids to the point where they pray sincerely to God is to help them understand that prayer is NOT a ritual.
Prayer is about spending time with God!
To spend time with God, kids need have to have a REAL relationship with Him. Emphasize that fact BEFORE you teach them how to pray.
Stress the importance of building a relationship with God by teaching them how to spend time each day reading God's Word. If you're a Sunday School teacher, ask parents to spend time reading the Bible and praying with their children, too.
You spend quality time with your earthly parents…so why not spend quality time with your Heavenly Father?
6. Help them understand the power of prayer
Once kids understand that prayer is part of their relationship with God, and not meant to be a ritual, make sure that they know how powerful prayer actually is.
Also…don't let them take prayer lightly!
(Ok…I like a good joke now and then as much as anyone…but don't let them make a habit of asking for "ridiculous" requests or saying funny things just to make classmates laugh.)
In addition, God doesn't always answer prayer they way WE want him to. Obviously we'd love God to make donuts nutritious, but, um…..
My point is that kids may not see how powerful prayer is simply because they often don't recognize God's answers. Many young people tend to think that if God didn't say "YES" to what they wanted, He didn't answer at all.
So, make sure you teach them that God answers with what is BEST for us. Here's how:
Use examples of how God answered prayer in the Bible
Tell them anecdotes about how God has answered prayer in your own life.
Keep a log of class prayer requests and write down how they were answered. Kids should share how God has answered their prayers with the class, and not just their requests.
Also, emphasize the fact that sometimes God asks us to wait. I know someone who prayed for 10 years for her grandmother to accept Christ, and she did, just before she passed away.
Waiting grows our faith in God. We can be sure that if we ask anything according to His will, it will be given to us, so prayer is all about having faith in what we know God will do (I John 5:14).
7. Don't pray only at certain times
It's very tempting to fall into the rut of only praying at certain times, such as before eating, or before class. Those are both great times to pray, don't get me wrong, but sometimes we limit prayer time ONLY to those times.
When we do that, it only reinforces the WRONG idea that prayer is a ritual. 
In Sunday School, you can take some time to pray any time during the class, for any reason, and in any position (sitting, standing, kneeling, etc).
Make sure kids know that having their eyes closed is only so that they won't get distracted. Of course we can pray with eyes open!  (In fact, many people in the Bible looked up toward heaven when they prayed: see John 11:41 for example.)
At home, pray with your kids at different times during the day, not just before meals, or before bedtime.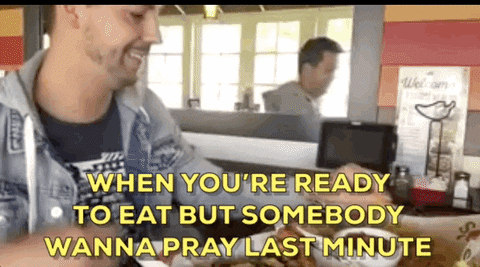 8. Lead by example
Kids won't want to make prayer a habit in their lives if they know that you don't. This is especially true if you are their parent.
Make sure that you're sincere when you pray out loud in front of them. They are relying on your example, the same way that Jesus' disciples relied on his.
Also, don't be afraid to include children in your prayer time at home.
During Sunday School, many teachers naturally ask kids to pray out loud. However, some parents do not do this at home.
In conclusion, your example is really the most effective way to teach kids to pray, after the Bible itself. Take advantage of that fact, and let kids see the power of prayer in your life.
Share this post: